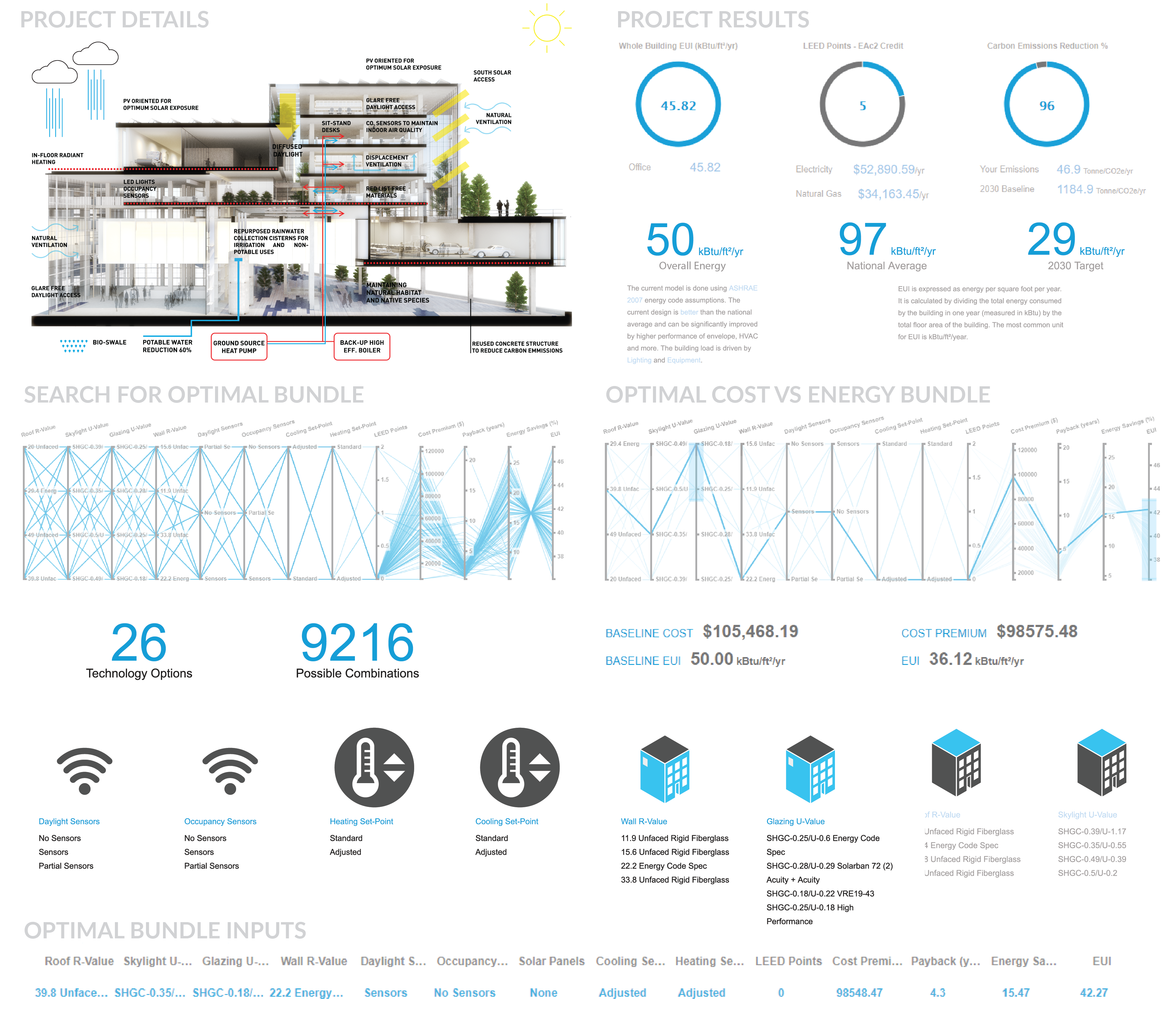 PROJECT INFORMATION
Submitted by:  
Firm Name:
What kind of graphic is this? Various, including Parallel Coordinates
PROCESS
What are the primary inputs of the analysis that the graphic describes?  
Building Design
List the primary outputs/metrics that the graphic describes?  
Cost vs Energy Optimization
What is this graphic showing? 
The graphic showcases: 1. PROJECT DETAILS: This provides an overview of the high performance strategies that have been incorporate in the design 2. PROJECT RESULTS: This highlights the key energy performance metrics for achieved for the project, including EUI, Benchmarking, Carbon Emissions and LEED points (for EAc2). 3./4. OPTIMIZATION: This part of the diagram showcases a parametric cost vs energy optimization for this project. Highlighting the design space and the range of solutions and the team's methodology to select the optimal bundle for energy and cost.
How did you make the graphic? 
The project was originally created in Revit. The cove.tool Revit plugin was used to export the project geometry to the cloud based software. The output from cove.tool was assembled to this diagram using Abobe Photoshop and Illustrator.
What tools did you use to create the graphic?
What specific investigation questions led to the production of this graphic?
What is the most cost optimal way to get to an EUI target of 37?
How does this graphic fit into the larger design investigations and what did you learn from producing the graphic?
The graphic helped not only drive data driven decision making for the engineering team, but also assisted in communicating clear idea to the project owners.
What was successful and/or unique about the graphic in how it communicates information?
The idea of making the most cost optimal decision while hitting stringent energy target was crucial to allowing specific strategie to be a part of the project budget.
What would you have done differently with the graphic if you had more time/fee?
There was a total of 16 hours spent on producing this graphic for the project. Had the team had double the time, there would be a few more sectional diagrams to explain the physical impact of the performance strategy. A daylight model for the project was also conducted, but is part of a different graphic.