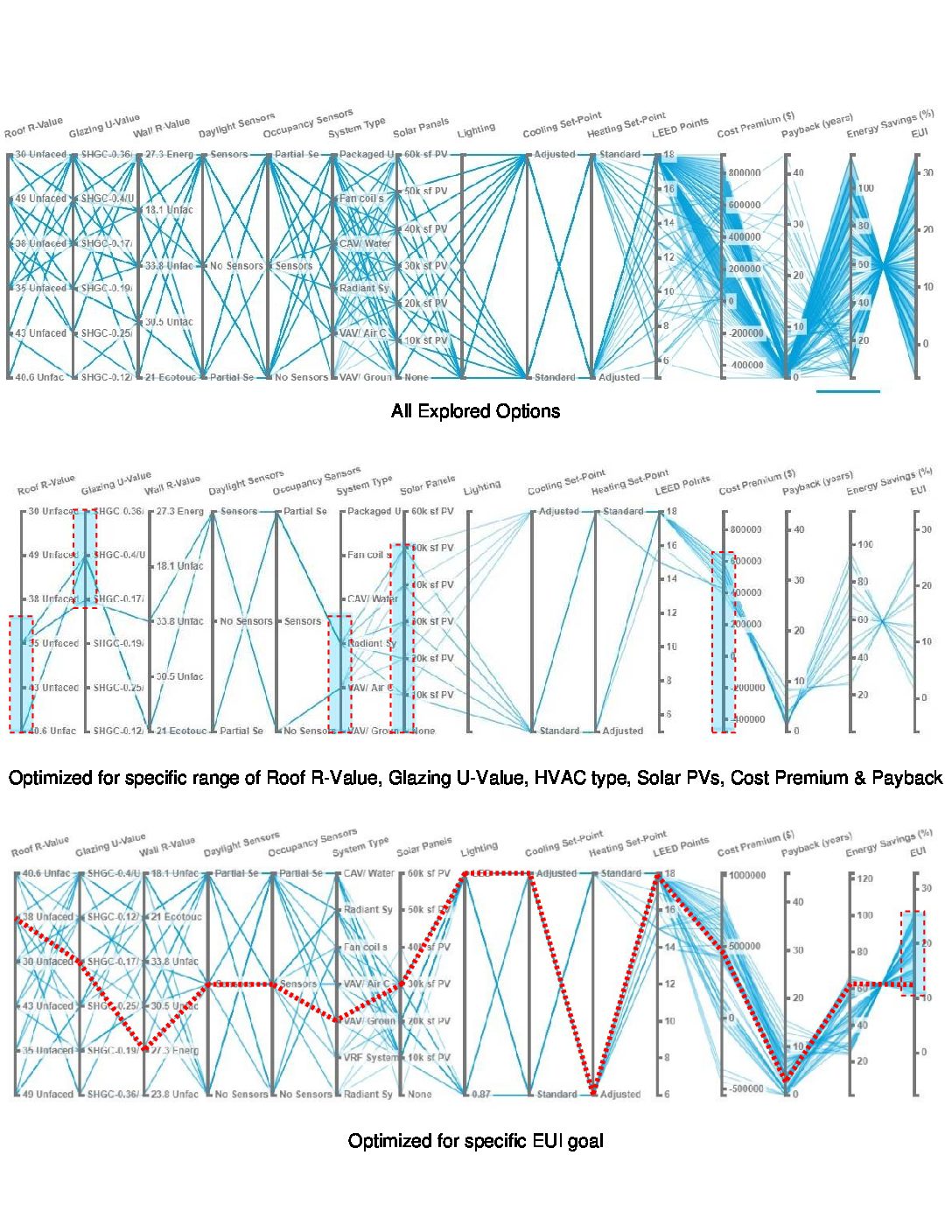 PROJECT INFORMATION
Submitted by:  Sukreet Singh
Firm Name:
What kind of graphic is this? Parallel Coordinates
PROCESS
What are the primary inputs of the analysis that the graphic describes?  
Building Parameters like Roof R-Value, Glazing U-Value, Wall R-Value, Daylight Sensors, Occupancy Sensors, HVAC system type, Solar Panels etc. Cost Parameters like Cost Premium, Payback
List the primary outputs/metrics that the graphic describes?  
Payback, Energy Savings, EUI
What is this graphic showing? 
Graphic is showing multiple optimized solution and constraint factor which helps filter out parameters that don't allow us to reach our EUI goals or return on investment goals. Light blue band is the selection criteria for a particular variable.
How did you make the graphic? 
Photoshop over output from Cove Tool
What tools did you use to create the graphic?
What specific investigation questions led to the production of this graphic?
What are the most impactful yet cost effective strategies for this project type in this location? How much of rooftop PV would we need to make it Net Zero? What type of HVAC systems would be most beneficial for this project type from upfront cost and payback perspective.
How does this graphic fit into the larger design investigations and what did you learn from producing the graphic?
Quick illustrations of such graphics with optimized solutions led the design team brainstorm on variety of solutions in real time.
What was successful and/or unique about the graphic in how it communicates information?
Clear, unique, concise way of looking at multiple parameters
What would you have done differently with the graphic if you had more time/fee?
Organized the lines based on color scheme to identify different options.