What is the impact of each energy efficiency strategy on building performance?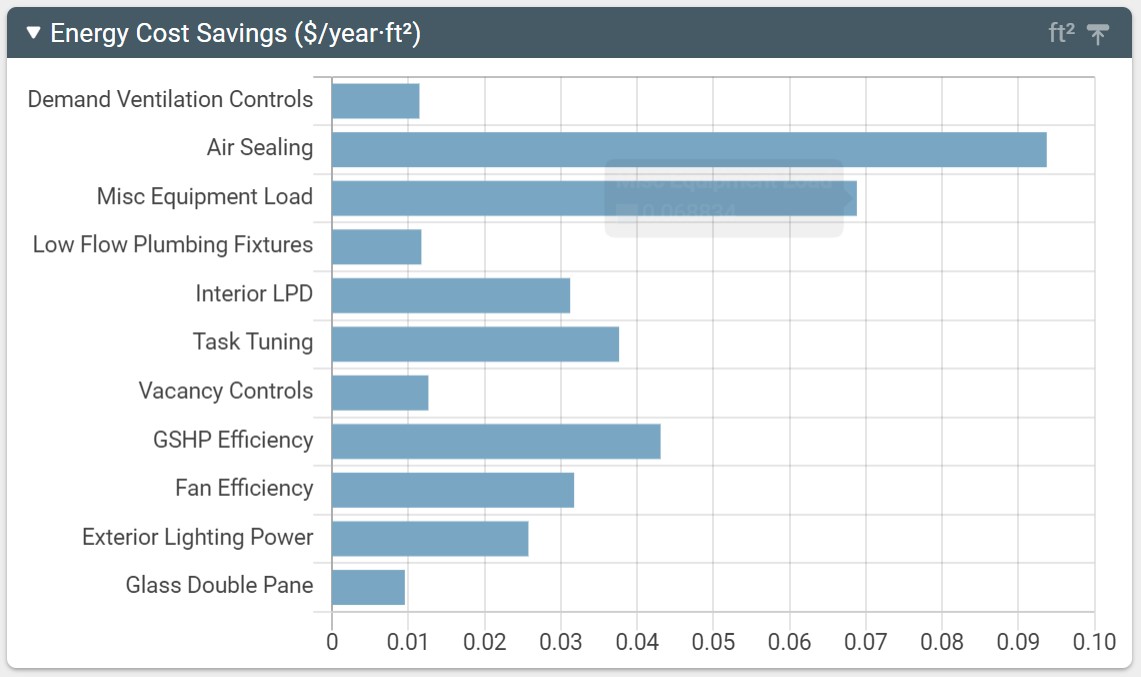 What is this graphic showing? Describe the different parts of the graphic and how it communicates the data.
What type of graphic is this?
Design Variables
Building Massing
Building Materials
Glass U-value / SHGC
Glazing Fraction/Window to Wall ratio
HVAC performance/system selection
Insulation R-value
Other
Window shading/sun control
Is this part of the ASHRAE-209 cycle?
Cycle 1 Simple Box Model
Cycle 2 Conceptual Design
Cycle 3 Load Reduction
Cycle 4 HVAC System Selection
Cycle 5 Design Refinement
Cycle 6 Design Integration + Optimization
Cycle 7 Energy Simulation-Aided Value Engineering
What tools were used for the simulation analysis?
What tools did you use to create the graphic?
What was successful and/or unique about the graphic in how it communicates information?
This graphics are unique because they are native output of our new Sketchbox concept design tool. The results are presented measure-by-measure and quickly show designers which strategies have the greatest impact on energy performance. No post processing is required and the results can dynamically change to show a variety of output metrics like energy cost, EUI, CO2, etc.
Is there anything else you would like to mention?
Slipstream is a non-profit organization with a mission to accelerate climate solutions for everyone. To help with this, we developed this "shoebox" modeling tool called Sketchbox. Sketchbox is a web-based tool that assembles and runs DOE2 models in the cloud from any web-connected device. It is optimized for concept design and includes reliable code baseline values and defaults.
Included in the competition: