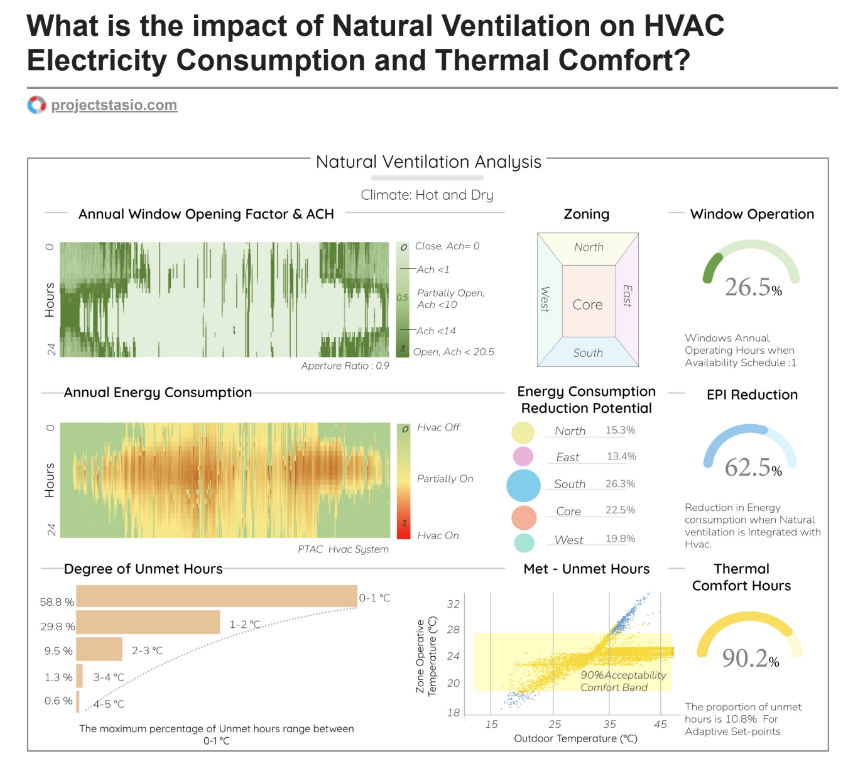 Submission detail: This graphic attempts to portray the impact of integrating Natural Ventilation on the Annual HVAC Energy Usage and the Thermal Comfort of the occupants. It starts with portraying the Window Opening Factor and its impact on the ACH. In the model, we can observe the windows opening when • Tzone air > TSet point • Tzone air > Toutside air • Availability Schedule Value = 1 Window opening aids in removing the accumulated heat from the previous day and hence helps in maintaining the internal Set temperatures.
Tarjani Shah
Tarjani is currently pursuing her Master's in Building Energy Performance from CEPT University, Ahmedabad, India. She is an Architect with over 4 years of experience in various projects spanning luxury hotels, government buildings, residences and restaurants. She is a member of the judges committee of Roller-Skating Federation of India and a four-time National Champion in Artistic Roller Skating.
What our judges like about this submission
The graphics indicate nicely the benefits of natural ventilation on annual energy savings and comfort.  While natural ventilation study often assumes open floor plates, it is refreshing to see the 5 zones model, and the benefits of the zones.   The "dial" displays on performance are easy to read.  The 8760 hours display clearly indicates the "hot" spot where natural ventilation is possible.          – Luke Leung

The carpet graph is an excellent way to show window opening conditions and energy consumption for each hour throughout the year, it is simple but conveys enough information and is very easy to follow. The dashboard on the right is a great addition to the carpet graph and provides the readers with key take-aways.          – Rufei Wang
Special Thanks To Our Spring 2022 Judges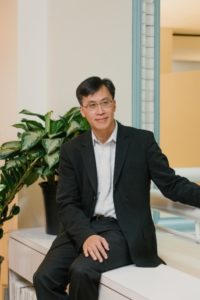 Luke Leung
Luke is a LEED Fellow; ASHRAE Fellow; ASHRAE Epidemic Task Force Commercial Team Leader; ASHRAE Task Force for Building Decarbonization Embodied Carbon ExCom; ASHRAE Directors-at-Large; Carbon Leadership Forum MEP 2040 founding member; City of Chicago Decarbonization Task Force; AIA COVID-19 Task Force, BOMA Toronto Health Committee Co-Chair; Chair of ASHRAE "Environmental Health Committee"; ASHRAE Distinguished Lecturer; Former Chair of ASHRAE TC 9.12 on Tall Buildings; Former Board of Directors for USGBC, Illinois; Industry Advisory Board for IN2 start-up incubator program with US National Renewable Energy Laboratory.
He is the wide firm Principal of the Sustainability Engineering Studio for Skidmore, Owings and Merrill LLP. His work includes Burj Khalifa, the current world's tallest building, and other four of the top 20 tallest buildings in the world. Other work also included General Motors Global Headquarters, Beijing Finance Street, US Census Bureau, US Air Force Academy CCLD, US Embassy in Beijing, BBVA Tower in Mexico City, LG Art Hall in Seoul, Korea; Master planning of XiongAn – the millennium plan of China, and numerous other significant tall and large projects.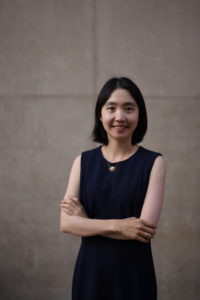 Rufei Wang
Rufei Wang is a Senior Environmental Designer working at Atelier Ten's New York office. She provides interdisciplinary sustainability consulting services for projects in a wide range of sectors, with a focus on energy efficiency, carbon reduction, passive design strategies integration, healthy indoor environment and benchmarking. She is also a frequent visiting critic and lecturer in several universities and peer reviewer for several international conferences. Rufei is a LEED Accredited Professional and a Certified Passive House Consultant.