What is the impact of Natural Ventilation and Double Skin Roof Systems on energy needed for cooling?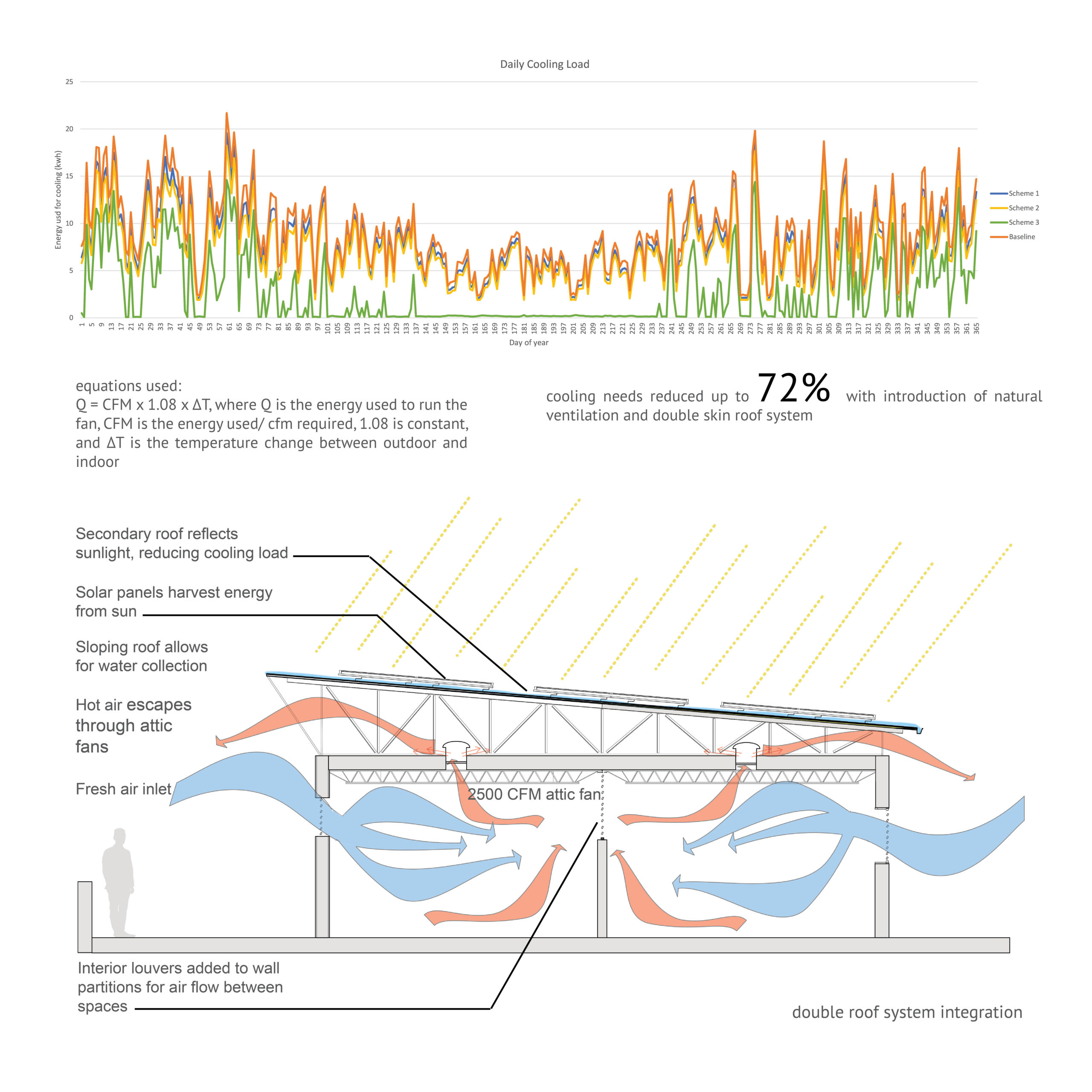 What is this graphic showing? Describe the different parts of the graphic and how it communicates the data.
The graph shows the potential energy savings between different design schemes. Scheme 1, acting as a baseline or control, includes a standard single roof systems, whereas scheme 2 includes a double roof system. Scheme 3 depicts a double roof system, with 4'-0" overhangs on each sides. Lastly, scheme 4 includes a double roof system with 4'-0" overhangs and natural ventilation. The annotated section at the bottom shows how the systems are integrated.
What type of graphic is this?
Design Variables
Passive strategies
Window shading/sun control
Is this part of the ASHRAE-209 cycle?
Cycle 3 Load Reduction
Cycle 4 HVAC System Selection
Cycle 5 Design Refinement
Cycle 6 Design Integration + Optimization
Cycle 7 Energy Simulation-Aided Value Engineering
What tools were used for the simulation analysis?
What tools did you use to create the graphic?
Adobe Illustrator
Adobe Indesign
Adobe Photoshop
Excel
What was successful and/or unique about the graphic in how it communicates information?
These graphics effectively show the integration of natural ventilation and other energy saving systems. It also breaks down energy savings of design improvements and communicates the substantial effect that natural ventilation has on energy savings.
Is there anything else you would like to mention?
Additional credits and other contributors:
Big thanks to Dr. Mansy and Professor Homer at Oklahoma State's School of Architecture for their wisdom and time.
Included in the competition: