What is the impact of orientation on daylight performance and irradiation on the façade? (Competition Winner)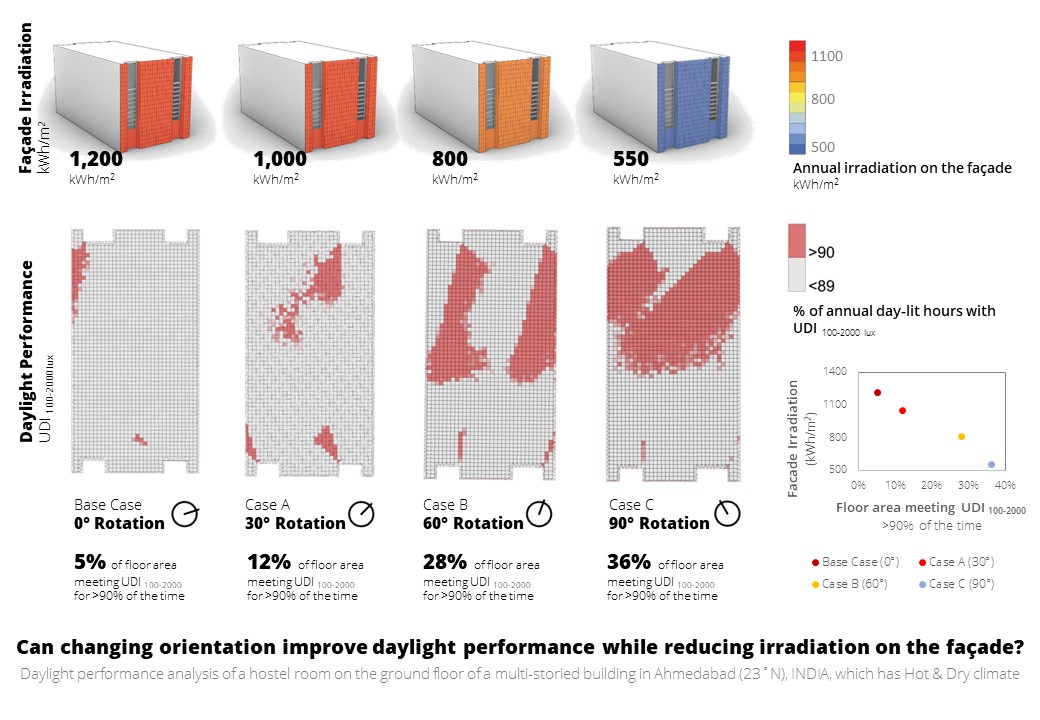 What is this graphic showing? Describe the different parts of the graphic and how it communicates the data.
The graphic attempts to show the relationship between daylight performance and the irradiation on the façade. Change in orientation was found to impact both of these performance measures in a desirable manner and thus appears like a conducive design strategy in the given climate.
What type of graphic is this?
Analysis grid
Case Study / Multiple
Design Variables
Building Massing
Other
Passive strategies
Is this part of the ASHRAE-209 cycle?
What tools were used for the simulation analysis?
What tools did you use to create the graphic?
Adobe Photoshop
Excel
Grasshopper/Rhino
PowerPoint
What was successful and/or unique about the graphic in how it communicates information?
A clear relationship was found between the daylight performance and irradiation of the façade and is easily understood as there is a clear linear arrangement of data. This exploration was to understand the potential conflict in trying to avoid direct solar radiation as much as possible in a hot and dry climate but also maintain minimum acceptable daylight levels.
Is there anything else you would like to mention?
This analysis was done as a part of the classroom exercise under master's in Building Energy Performance at CEPT University, Ahmedabad, India, under the guidance of Professor Minu Agarwal Ph.D. in conjunction with alumni Mili Jain.
Included in the competition: